right this very minute I was all hooked up and walking into the OR to have Madison and Kennedy.
Rob and I were over the moon excited and nervous at the same time but thankfully the surgery went as planned and at 9:30am and 9:31am the girls were born.
Here they are meeting for the first time (Maddy in top having a tiny bit of trouble breathing)
Always the control freak it was not long before I took the camera to take pictures while I was still being worked on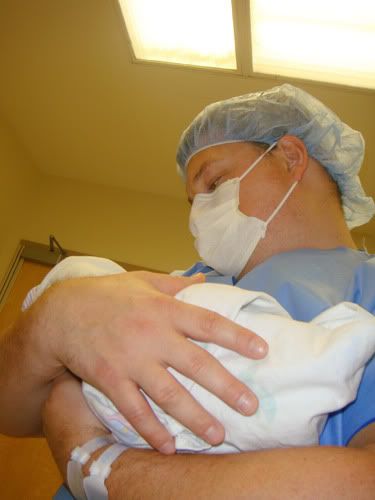 Then one of the 10 nurses in the room came to take our first picture w/both girls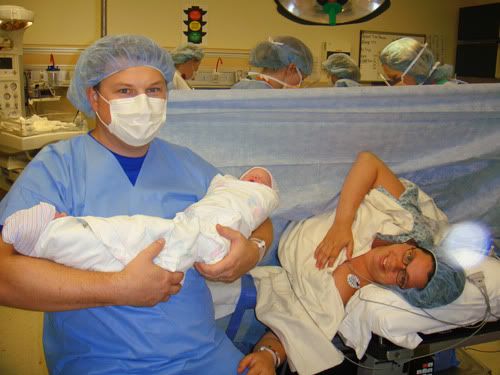 IT all happened so fast. Rob left with the girls and I got sent away to recover. I drugged dialed a few of my friends to tell them the girls were here. Dont quite remember who all I called but I do remember most of them laughing at my slurred speech. I was just so excited!
FINALLY Rob came down and we were moved to a room quickly followed by me getting to hold my girls for the first time. My face says it all. In a instant I had forgotten how hard it was to conceive them. How hard it was to carry them. None of it mattered. With them here Our family of 5 was complete.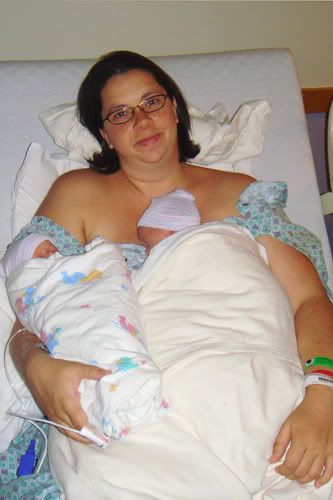 Happy Birthday baby girls I love you with all my heart!